Sponsor Support for 21st Annual Parnelli Awards Climbs to Record Level
January 4, 2023
"We are overwhelmed by the support we're receiving for our 21st annual show being held April 14th," says Parnelli Awards Executive Producer and Co-Founder Terry Lowe. "Now that the live event industry is roaring back to life, the desire to be part of the gala that honors those behind the scenes is stronger than ever."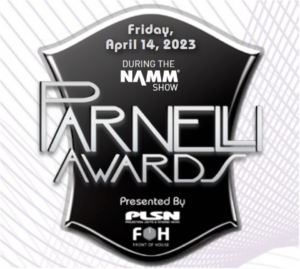 The list of those supporting this coming Parnelli Awards includes Harman, All Access Staging and Production, and Sound Image, who have been sponsors since its inception in 2002. The scores of forward-thinking companies who have become a part of the Parnelli Awards along the way are now joined by several new sponsors.
"Since its inception, the Parnelli Awards have been widely known for its standards of excellence," says David Haskell of Gateway Studios & Production Services. "In addition to giving back, the sponsorship has allowed Gateway to make our official debut as a major production company in this space. We are delighted to play a small part in supporting the industry to recognize the hard work that goes on behind the scenes."
"In June 2021, Hirschbach acquired Xtreme Transportation," explains June Bermingham, Business Development Manager. "Xtreme has specialized in the entertainment industry since 2004, and we at Hirschbach have come to understand and value this industry. We wanted to be a part of—and show our appreciation to—the industry's highest honor for the live event professionals. The Parnelli Awards truly demonstrate and honor the individuals behind the scenes that make the shows happen."
"As a company, we've grown leaps and bounds over the past year and with that, we want to grow our engagement with the industry as well," says Music Matters Director of Marketing Lindsay Schwartz. "We also love the opportunity to support those in our industry who are doing great work! Event professionals are the unsung heroes that do so much daily to bring joy and happiness to so many people around the world. It's important to show gratitude to these amazing people and their art."
"In addition to us welcoming those three to the party," Lowe says, "we're also pleased to have Harlequin Floors join us as a supporter. They have been a longtime advertiser with our magazines and now we welcome them to the Parnelli Awards."
The complete list of sponsors so far is: Platinum Sponsors: DiGiCo/Group One; Gold Sponsors: 4Wall Entertainment, All Access Staging and Production, Bandit Lites, Elation Professional, Environmental Lights, G2 Structures, Gallagher Staging & Productions, Harman Professional, Hirschbach, IntelliEvent, Meyer Sound, Music Matters, NAMM, NovaStar, Pyrotek Special Effects, Robe, Rock-It Global, ROE Visual, Screenworks, Special Event Services (SES)/Special Event Transportation (SET), Sound Image, Stageline, Strictly FX. Silver Sponsors: Advanced Entertainment Services, Brown Note Productions, Gateway Studios & Production Services, Hemphill Brothers Coach Company, INFiLED, On Tour Logistics, See Factor, Ultratec Special Effects; Cocktail Sponsors: Allen & Heath, CHAUVET Professional, Harlequin Floors, Shockwave Cargo, Solotech, Tyler Truss; and our Production Sponsors: Access Event Solutions, Atomic, PRG, TPI. If you wish to join the party, Parnelli Award Sponsorships are still available—contact Greg Gallardo at gregg@timelesscom.com today to be part of live event history!
"The Parnelli Awards represent the incredible spirit and resilience of our industry, perhaps more evident now than ever," says Joe Lamond, President/CEO of NAMM. "There's a magic to this gathering not only in celebrating the incredible accomplishments of all those behind the scenes of our favorite concerts and events, but in the camaraderie that exists in that room. Everyone has a story to tell and advice to impart and along the way, to inspire and encourage the next generation of pioneers that will carry events into the future. That's the common thread of the Parnelli community—the desire to contribute to the industry we all love."
For more information about the 21st Annual Parnelli Awards, go to www.parnelliawards.com