Parnelli Lifetime Achievement Honor to Go to Chris Adamson
June 4, 2018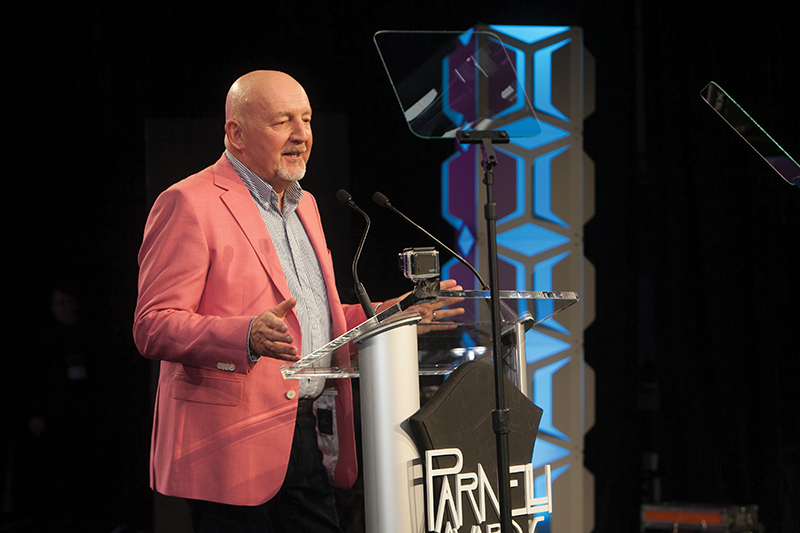 LAS VEGAS — The Parnelli Board of Advisors has announced that Chris Adamson will receive the Parnelli Lifetime Achievement Award at the 18th annual ceremony in Anaheim, CA on Jan. 25, 2019. He's pictured here at the 2018 ceremony, where he was both an awards presenter and recipient (Tour Manager of the Year).
Adamson has worked as tour manager/director and/or production manager for some of the greatest acts starting with the likes of The Byrds, Emerson, Lake and Palmer, and Pink Floyd, through to Tom Petty and the Heartbreakers, Aerosmith, and John Mayer/Dead and Company. He has previously won three Parnelli Awards for his work in 2007, 2014, and last year. An industry pro with an affable gregarious nature, he is admired by all who have worked with him. If you have not had the pleasure of meeting him in person, you certainly know his voice: His is the first voice you hear on Pink Floyd's Dark Side of the Moon album. Roger Waters asked him, "Do you think you're mad?" and Adamson's response was: "I've been mad for f***ing years – absolutely years"
"I did a European tour with Chris in 1976 — his sense of humor, work ethic, and drive got us through some challenging gigs," says Parnelli Awards board chairman Marshall Bissett. "He builds teams and lets them get on with it. It's hard to keep track of his itineraries these days, and I don't believe a word of any 'retirement' talk. He deserves to be listed with his distinguished predecessors."
Adamson was born in 1949 in Kingston upon the Hull, Yorkshire, England. As a teenager, he took a five-year apprenticeship at an engineering company where his grandfather had worked. Working mainly on a lathe, he saved up enough money to buy a van. In those days, if you had a van and didn't play an instrument, you were immediately befriended by someone in a band.
For Adamson, that friend was Mick Ronson, who at the time was a guitarist in a band called The Rats (Ronson would go on to play with David Bowie during The Spiders from Mars period). Adamson became something of a commodity, and many local bands began to call on his services. Soon he was earning more for carting their gear around at night than he did in his day job, so he quit and never looked back. He developed a firm friendship with the infamous Dinky Dawson, who was an audio engineer for a blues band fronted by Peter Green. This paved the way to him to work with Fleetwood Mac, something he has continued to do on and off for 40 years.
During the late 1960s and early 1970s, Adamson built a reputation for his ability to make rock shows happen, and bands like The Faces and The Herd (which featured a young Peter Frampton) appeared on a list of early gigs alongside ELP and the Byrds. He then landed a "full time" gig with Pink Floyd that lasted approximately 10 years, during which he would see that band become a 24-truck touring act.
But Adamson did more then manage complicated tours: "When you were employed by a band in those days, you were on call 24/7, and you'd do everything," he says. "I took wives shopping — I even dug a pond for Dave Gilmore. It was just what you did."
In the 1980s he worked world tours with Steely Dan, Stevie Wonder and Roxy Music, and in the 1990s, Diana Ross, Michael Bolton, and Lenny Kravitz, among others. Of course there are plenty of stories: Once when working for Frank Sinatra in the 1990s, Sinatra let it be known he wasn't happy with the cleanliness of his mikestand. The following night Adamson had it spiffed up to be Sinatra worthy.
Through the years, with great agility, he has bounced between great acts within the industry for over half a century. "I must admit I've been very lucky. I say that because I'm lucky to do what I love for a living. I've loved what I do…and yes still do."
Adamson will receive the Parnelli Lifetime Achievement Award at the Parnelli Awards on Jan. 25 at the Anaheim Hilton during the 2019 NAMM Convention.